Purpose:  
To assist in fulfilling the vision of the Organization of Nurse Leaders of New Jersey (ONL NJ) to transform the future of healthcare in New Jersey through innovative nursing leadership by collaborating with all nurse leaders across the continuum of care on issues related to transitions of care and population health management.
Responsibilities:
Provide a forum for nurse leaders and aspiring nurse leaders to collaborate on matters impacting the delivery of care at all levels in the continuum.
Engage nurse leaders from all areas of care such as case managers, home care, sub-acute facilities, skilled nursing facilities, etc., to identify issues impacting the delivery of care and explore best practices to address these issues.
Furnish support and resources to advocate on behalf of nursing leaders on healthcare issues and policy affecting care across the continuum.
Provide education to the nursing community on population health, transitions of care and new roles emerging as a result of the changes in the delivery of healthcare.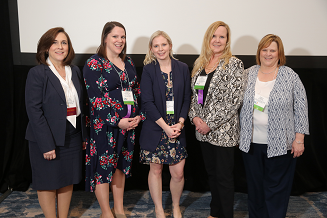 Chairperson
Margaret M. Pogorelec, DNP, MSN, NE-BC, RN, CPEN, Nurse Manager, The Valley Hospital
Co-Chairperson
Denise Redmond, MSN, RN, CMSRN, Assistant Administrator, Virtua Health and Rehabilitation Center-Berlin
Board Sponsor
Lori Ann Colineri, DNP, RN, NEA-BC, Senior VP & Chief Nursing Officer-Southern Region, RWJBarnabas Health
Members:
Jessica A. Ahearn, BSN, RN, Wound Care Nurse, Deborah Heart and Lung Center
Linda Ambacher, RN, BSN, MBA, MSN, CRRN, Chief Nursing Officer, Kessler Institute for Rehabilitation-Chester
Margaret M. Ames, DNP, MPA, RN, NEA-BC, Associate Vice President, Nursing, Jersey City Medical Center
Veronica A. Betts, DNP, RN-BC, CCM, Director, Transitional Care, Holy Name Medical Center
Amanda C. Horak, MSN, RN-BC, RN-Clinical Coordinator, Morristown Medical Center
Kathleen Kaminsky, MS, RN, NEA-BC, Senior Vice President Patient Care Services and CNO, Englewood Hospital and Medical Center
Karen Ranta-Daly, MSN, RN, CAPA, NE-BC, Director Surgical Services, Bayshore Medical Center
Elizabeth Readeau, RN, MSN, NEA-BC, Retired
Coleen Rossi, MBA, RN, CCM, CRRN, Chief Nursing Officer, Encompass Health Rehabilitation Hospital of Toms River
Debra Valentine, RN, Corporate Director of Case Management, AtlantiCare Regional Medical Center
Soffy Vilson, DNP, RN, LNHA, CDP, Vice President of Quality Assurance, Spring Hills Senior Living
Melissa Zak, DNP, MBA, RN, NEA-BC, Vice President of Patient Care, Virtua Memorial Hospital & Virtua Willingboro Hospital
Meeting Schedule - contact Susan Cholewka, Executive Director, scholewka@onlnj.org