Purpose: To influence and have a measurable impact on healthcare policy in New Jersey.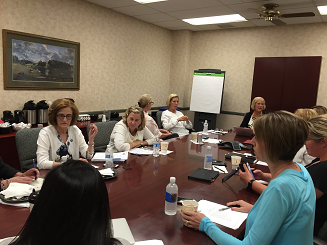 Chairperson
Kathleen K. Borenstein, DNP, RN, CCRN-K, Director of Education and Research, Robert Wood Johnson University Hospital Rahway
Co-chairperson
Ellen Lutz, MSN, RN, CNL, Clinical Nurse Leader, Hunterdon Medical Center
Board Sponsor
Patricia Steingall, MS, RN, NE-BC, Chair, NWESC Commission
Members
Susan Cannon, MSN, RN, CPN, NE-BC, CPN, AVP, Nursing for Women's & Children's Hospital Operations, Cooper University Health Care
Deborah Cioffi, MSN, RN, MSA, Administrative Director of Emergency Services, Monmouth Medical Center
Lori Colineri, DNP, RN, NEA-BC, Interim Chief Nursing Officer, Hackensack Meridian Health JFK Medical Center
Brittney Daley, MSN, RN, CCRN, Nurse Manager Kahn 5 Neuro/Deskovick Pulmonary Units, Morristown Medical Center
MaryAnn Donohue Ryan, PhD, RN, APN, NEA-BC, Executive Leadership Consultant, Chilton Medical Center 
Karen N. Gruber, BSN, RN, CEN, Administrative Director, PCS, Cooper University Health Care
Ruth Harrell, MSN, MS, RN, CPHQ, Nurse Manager, The Valley Hospital
Nancy H. Holecek, BSN, RN, MHA, MAS, Senior Vice President and Chief Nursing Officer, Northern Region, RWJBarnabas Health
Cathleen G. Janzekovich, PhD, MA, RN-BC, NEA-BC, Assistant Vice President of Nursing, CentraState Medical Center
Mary L. Johansen, PhD, RN, NE-BC, Clinical Associate Professor/Associate Director NJCCN, Rutgers School of Nursing
Kathleen Kaminsky, MS, RN, NEA-BC, Senior Vice President and Chief Population Health Officer, Englewood Hospital and Medical Center
Helene M. Lynch, DNP, MJ, RNC-OB, NEA-BC, Director of Operations, Southern New Jersey Perinatal Cooperative
Comfort O. Oseme, MSN, RN, CMSRN, Nurse Manager, Cardiac Stepdown, Our Lady of Lourdes Medical Center
Judith A. Padula, MSN, RN, NEA-BC, Vice President of Patient Care Services, Chief Nursing Officer, St. Joseph's Health
Shannon Patel, DNP, APN-C, AGPCNP-BC, NEA-BC, QPHQ, CCRN-K, Assistant Vice President, Cooper University Health Care
Colleen Price, MSN, RN, APN, AGACNP, Divisional Director of Patient Care Services, Capital Health
Charlotte C. Qualls, MA, RN, NE-BC, Administrative Supervisor, Hackensack Meridian Health Riverview Medical Center
Judith E. Schmidt, MSN, RN, ONC, CCRN, Chief Executive Officer, New Jersey State Nurses Association
Wendy J. Silverstein, DNP, RN-BC, CNML, CPH, Nurse Manager, Morristown Medical Center
Rita Smith, DNP, MPA, RN, NEA-BC, Partner, C-Suite Healthcare Advisors, President, ONL NJ
Public Affairs Consultants
Sabeen Kalyan-Masih, Vice President of Public Affairs, Capital Impact Group
Gene Mulroy, Principal, Capital Impact Group
Meeting Schedule
Contact Susan Cholewka, Executive Director, scholewka@onlnj.org, 732-421-7557.
Legislative update conference calls are held monthly on the first Thursdays, 12 p.m. - 1 p.m.